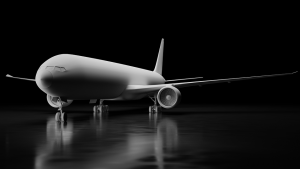 Although it's experienced its fair share of market turbulence, Boeing had a particularly strong first quarter for 2018. According to a report by the aerospace manufacturing company, Boeing generated $23.4 billion in Q1 2018, surpassing analysts' previous earnings forecasts.
The report shows that Boeing's GAPP earnings increased to $4.15 per share, while its non-GAPP earnings increased to $3.64 per share, signaling strong growth and expansion for the aerospace manufacturing company. Boeing says that it delivered 184 commercial jets during Q1 2018, one of which includes its first 787-10 Dreamliner as well as its first 737 MAX 9 jet. Boeing sold the Dreamliner to Singapore Airlines and the Max 9 to Lion Air Group.
Not surprisingly, the biggest source of Boeing's revenue for Q1 2018 came from the company's sales of commercial jets. Reports show that $13.7 billion of the $23.4 billion Boeing earned during this period came from commercial jet sales.
That wasn't the only source of revenue for Boeing, however. According to the report, Boeing generated $3.9 billion in Q1 earnings from its services department. This standalone business of Boeing generated 8% more revenue in Q1 2018 than it did the year prior. In fact, it's actually growing faster than its aircraft maintenance, supply chain and data analytics departments.
So, what's next for the future of Beoing? When speaking about the report, Boeing's Dennis Muilenburg says that Boeing hopes to grow at a faster rate than 3.5% as the company expands its portfolio of offerings. "We aim to grow faster than the average services market growth of 3.5 percent as we further expand our broad portfolio of services offerings and continue to gain market share," said Boeing CEO Dennis Muilenburg.
Some analysts had feared that a trade war between the United States and China could hurt Boeing's earnings. With tariffs being placed on aluminum and steel imports, U.S. companies like Boeing are forced to pay higher prices for key materials used in the construction of their products.
Furthermore, Chinese companies are responsible for about 20% of Boeing's total sales. Now that China is placing tariffs on U.S. products, some companies may choose other sellers from which to buy their jets and other aerospace products. The good news, however, is that Boeing appears to be resillient to these market changes. As reported by the company's Q1 earnings report, it's still growing — and a faster rate than what analysts had previously expected. While there's no way to predict Boeing's future, this report suggests that it will continue to grow and expand, even with the newly imposed tariffs.