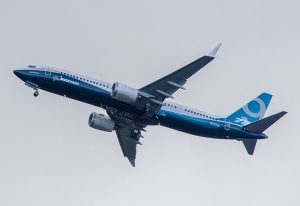 Boeing has received certification from the U.S. Federal Aviation Administration (FAA) for its 737 MAX 9 jet. With FAA certification, Boeing now has the green light to officially use the new aircraft for commercial purposes.
Of course, Boeing first received FAA certification for its 737 Max 8 jet last year, making the beginning of the end for its once-popular 737s. And earlier this year, the aerospace company performed two successful test flights of the 737 Max 9. Even with these test flights, however, Boeing still needed FAA certification. This certification shows the company's new 737 Max 9 is ready for commercial service.
When compared to the 737 Max 8, Boeing's new Max 9 offers an increased range of 4,040 miles to 4,139 miles. It also offers a larger passenger capacity of 220 passengers. Furthermore, the Boeing Max 9 is more fuel efficient than its Max 8 predecessor, making it an attractive choice among airlines.
When speaking about the 737 Max 9, Boeing's Keith Leverkuhm explained that Boeing is "looking forward" to introducing the new jet to airlines throughout the world. "Our teams built superior capabilities into the MAX 9 and proved them all the way through flight test. We're looking forward to bringing this airplane to market for our valued customers," said Keith Leverkuhn, vice president and general manager of the 737 MAX program, Boeing Commercial Airplanes. "I am proud of the entire team for helping us reach another important development milestone."
Although the 737 Max 9 is just getting off the ground, Boeing is already setting its eyes on a next-generation aircraft for its 737 line. Boeing has developed an even larger jet to compete with Airbus's A321neo. Introduced February 2016, the A321neo is a longer, wider and overall larger version of Airbus's A320neo. To put its popularity into perspective, Airbus received 1,920 orders for the new jet in January 2018 alone, accounting for nearly one-third of its A320neo jets.
Boeing's new 737 Max 10 features a larger engine, stronger wings, telescoping landing gear and numerous other upgrades. Boeing launched the Max 10 on June 19, 2017, selling orders to 10 customers, one of which is United Airlines. Reports indicate that United Airlines will convert 100 of its 161 orders for the 737 Max 9 into the Max 10. With that said, the 737 Max 10 is still a work in progress, with Boeing continuing to perfect the next-generation jet.
Boeing and Airbus are currently two of the world's largest aerospace manufacturing companies. The companies are both pioneering some of the fastest, largest and most versatile jets in the world. Boeing's 737 line and Airbus's A320neo line expected to account for the majority of commercial jet purchases. With Boeing's new FAA certification for the 737 Max 9, though, perhaps we'll see more of the company's jets in the skies.