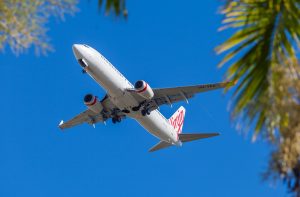 New reports indicate that Boeing produced more jets than any other company, including Airbus, last year. 2017 marked the sixth consecutive year in which Boeing topped the charts for jet production.
According to the reports, Boeing produced and delivered 763 jets in 2017. To put that number into perspective, it produced 748 jets in 2016 and 762 in 2015, both of which were also record-setting numbers for the respective years. Furthermore, the aerospace manufacturer received 912 net orders in 2017, whereas it received 668 net orders in 2016. Boeing says the list price for those orders was $134.8 billion.
When speaking about the new reports, Boeing Commercial Airplanes Chief Executive Kevin McAllister said it was "a testament to our employees and supplier partners who continue to innovate new ways to design, build and deliver the most fuel-efficient airplanes to customers around the world."
So, what fueled Boeing's growth and success last year? The company cites a surge in orders for its new MAX jets, which were the biggest contribution to its sales in 2017. As you may already know, the Boeing 737 MAX is a narrow-body aircraft that's being touted as the successor to the company's 737 Next Generation (NG) jet. Boeing originally launched the 737 MAX program on August 30, 2011, with the jet's first flight taking off on January 29, 2016. In March 9, 2017, it received certification from the U.S. Federal Aviation Administration (FAA).
The 737 MAX series is available in several different size offerings: the 737 MAX-7, 737 MAX-8, 737 MAX-9, and 737-MAX-10.
Boeing is currently in a battle with Airbus, with both companies seeking to sell their jets to airlines. Last year, however, Boeing gained a competitive edge over its counterpart with its 787 Dreamliner. Statistics show that Boeing now produces roughly a dozen of these mid-sized wide-body jets every month. Airbus, on the other hand, produces just half of its similar-sized A3550 jets per month. This is just one more reason why Boeing topped the charts for jet production in 2017.
There's been concern regarding the rise of Middle-East carriers and how they could potentially disrupt Boeing's operations. In a statement, however, Boeing Vice President of Marketing Randy Tinseth said that airlines globally made $34 billion of profit last year. And over the past three years, the total profits produced by airlines exceeds the profits generated from the past 30 years combined. So, there's plenty of revenue for all companies to earn.
Market analysts believe Boeing will continue to increase production and delivery of jets, thanks in part to the popularity surrounding its MAX jets.