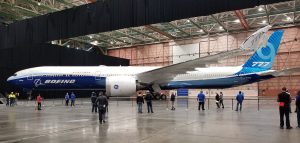 Although the aerospace manufacturing giant has encountered troubles with its 737 jets, Boeing is still expected to launch the 777x within the next two years. Earlier this month, Boeing confirmed that it was planning to release the new 777x series in 2020. Aviation experts were initially skeptical regarding Boeing's ability to produce and deliver the new jets. But it appears Boeing will, in fact, launch the new 777x jets within the next two years.
What is the 777x exactly? The 777x is a series of wide-body, long-range jets developed by Boeing Commercial Airplanes. They feature a similar design as the company's existing 777 family but with a few key differences.  First, Boeing has opted for new GE89X engines for its 777x jets, which are expected to provide a superior level of performance and fuel efficiency when compared to other engines used in the company's existing 777 jets.
Second, Boeing has designed the 777x jets with composite wings as well as folding wingtips. The wings were designed using a similar format as the 787. However, the 777x's wings have less sweep as well as a higher lift-to-drag ratio. Furthermore, the aspect ratio of the 777x's wings have been increased from 9:1 to 10:1.
It's also worth mentioning that Boeing has increased the fuel capacity for the 777x. The company's 777 jets have a fuel capacity of about 320,863 pounds, whereas the 777x jets have a maximum fuel capacity of approximately 350,410 pounds. With a larger fuel capacity, the 777x jets are capable of flying longer distances without needing to stop and refuel.
Boeing is actually developing several variants of the 777x. The 777-8 is the entry-level variant in Boeing's 777x series. It's intended to succeed the company's ultra-long-range 200LR variant, thereby competing directly with Airbus's A350-1000. A step up from the 777-8 is the 777-9 variant. Reports show the 777-9 variant has three additional rows of seats and is capable of flying an additional 220 miles
Finally, the 777-10x is the longest variant in the 777x series. It features four additional rows of seat, allowing it to hold a maximum of 450 passengers. At this size, the 777-10x is expected to compete with Airbus's ultra-long A380 jet.
Boeing has revealed exactly how much money it has invented in the 777x program, though some reports suggest that it's well over $5 billion. Considering the 777x will cost between $410 million to $442 million, though, it could be a lucrative stream of revenue for the aerospace manufacturing giant. Assuming all goes as planned, Boeing will begin delivering the 777x jets in 2020.