---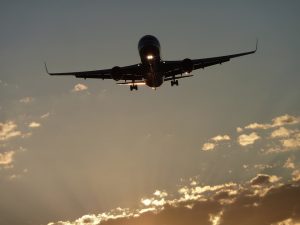 Boeing is moving ahead with its next-generation middle of the market airliner. Unofficially known as the 797, it's larger than a narrowbody airliner but still smaller than a widebody (hence the term "middle of the market"). So, when you can expect to see the Boeing 797 taking off at major airports?
As explained by CNN, Boeing released the first concept images of its highly anticipates 797 airliner at the Paris Air Show earlier this year. The teaser images don't reveal much about the 797, but they do reveal its size relative to other airliners.
The CNN article further notes that the new Boeing 797 will be optimized to maneuver around otherwise congested airports, such as those in Los Angeles and New York. Additionally, however, it can be used for medium-range intercontinental flights. The Boeing 797 is expected to seat between 220 and 270 passengers, with a maximum range of 5,200 miles (about 10 hours).
When speaking about the new 797, Beoing's McAllister explained that the company has learned valuable lessons from the 787. "With a wealth of lessons learned on the 787, (Jenks) has the right expertise to lead production system development, reduce program risk and manage the tradeoffs between cost and investment in meeting development targets," said McAllister told employees.
Of course, Boeing's last airliner was the 787 Dreamliner, which it first launched nearly six years ago. Developing the 787 wasn't an easy task, however. Boeing spent more than a decade designing and perfecting the Dreamliner before it went into service. Nonetheless, it's safe to say the 787 was a success. The long-haul, mid-size widebody airliner is said to be 20% more fuel efficient than its 767 predecessor. As of September 2017, Boeing has built 600 787 Dreamliners. It has nearly this same amount, however, on order waiting to be built.
In 2013, the U.S. Federal Aviation Administration (FAA) ordered grounding on all 787s in the United States due to a battery flaw. Boeing quickly fixed the battery, however, with the FAA lifting its ban shortly thereafter. Today, the Boeing 787 remains one of the world's most popular commercial airliners. It's used by countless airline companies, including All Nippon Airways, Japan Airlines, United Airlines, Qatar Airways and more.
There's still no word on when exactly the new Boeing 797 will launch. Some aviation experts predict a service date of 2020, while others predict 2024. Regardless, Boeing is moving ahead with the production of its new middle of the market airliner, for which it has already received purchase inquiries from more than 50 potential customers.