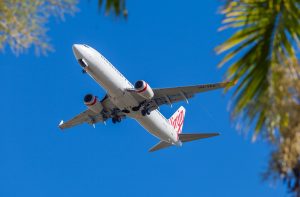 It's been a turbulent year for Boeing. In March, the U.S. Federal Aviation Administration (FAA) grounded the aerospace manufacturing company's 737 MAX airliner following two recent crashes. Since then, Boeing has been working around the clock to address the issues and get its airliner back in the air. It appears, however, that Boeing is almost ready to resume 737 MAX flights.
In November, Boeing said that it was working closely with FAA regulators, and it believes that regulators will approve its 737 MAX airliner in the next month. Assuming all goes as planned, 737 MAX flights could resume as early as January 2020.
When an airliner is grounded, commercial airlines can't use or operate it in their fleet until the airliner has been inspected by FAA regulators. In a statement to the press, Boeing said that it's working closely with FAA regulators to get the 737 MAX back in the air. The aerospace manufacturing company even said that FAA regulators were given access to simulators to better understand the 737 MAX.
"We are taking the time to answer all of their questions," said Boeing. "We're providing detailed documentation, had them fly in the simulators, and helped them understand our logic and the design for the new procedures, software and proposed training material to ensure that they are completely satisfied as to the airplane's safety."
Only after the 737 MAX has been inspected and certified by FAA regulators will commercial airlines be able to use in their fleets. The good news is that Boeing expects certification for its currently grounded jet in the next month. And by January 2020, the 737 MAX should be back in operation. Of course, Boeing may be forced to delay the 737 MAX return, but assuming FAA regulators certify it during inspection, the airliner should return to the skies by January 2020.
Originally introduced May 22, 2017 with Malindo Air, the 737 MAX is a family of narrow-body jets designed and manufactured by Boeing. It's designed as the successor of the Boeing 737 Next Generation (NG). In June 2019, Boeing reported that it received nearly 5,000 orders for its 737 MAX airliner. At the time, however, it had only delivered 387 of the narrow-body jets.
Boeing has designed four different variants of the 737 MAX, including the 737 MAX 7, the 737 MAX 8, the 737 MAX 9 and the 737 MAX 10. There are subtle nuances between the different variants, the most notable being the size. The 737 MAX 7, for example, is smaller and supports fewer passengers than the 737 MAX 10.