---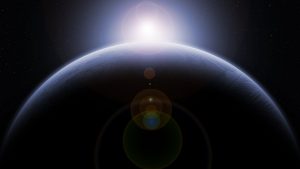 Boeing and NASA have teamed up to build a next-generation space station that will orbit the area between Earth and the moon.
Dubbed the "Deep Space Gateway," the new space station will serve as a research hub so astronomers and ground teams can learn more about zero-gravity environment while also opening the doors to deep space exploration in the future.
When announcing the new joint project, Boeing released several graphic pictures of what the space station will look like. They reveal a floating space station with what appears to be large solar panels on both sides, presumably for harvesting solar power form the sun. The concept drawings were published at the Space Symposium in Colorado.
While news of the Deep Space Gateway made headlines, Boeing also unveiled a glimpse into its new transport system, which it says could be used to transport astronauts from the station to Mars. Boeing was one of half a dozen space companies chosen by NASA to build prototypes for space exploration. Alongside Boeing was Bigelow Aerospace, Lockheed Martin, Orbital ATK, Sierra Nevada and NanoRacks.
It may sound like a bold endeavor, but Boeing and NASA hope to complete the Deep Space Gateway by 2020, with four launches occurring around that time. As with most space projects, however, there's a very real possibility of this date getting pushed backed or otherwise delayed.
"The ability to simultaneously launch humans and cargo on SLS would allow us to assemble the gateway in four launches in the early 2020s," said Pete McGrath, director of global sales and marketing for Boeing's space exploration division.
The Deep Space Gateway will serve as a safe haven for astronauts, protecting them from radiation while also serving as a transport center. The space station itself will feature a separate vehicle designed specifically for transporting astronauts while subsequently protecting them from the harsh environment. When the crew makes it to Mars, they can launch a lander to the surface to conduct additional scientific experiments and research.

So, where will Boeing build the Deep Space Gateway space station? That's a question that remains unknown. Some reports, however, suggest that it could build it at the International Space Station in Alabama.
What do you think of Boeing and NASA's plan to build a new space station?