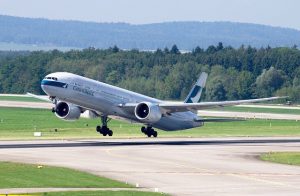 The Boeing 777 has just celebrated its 25th birthday, which in the world of aviation, is a major milestone. The 777, of course, is a wide-body jet developed by the U.S. aerospace manufacturing company Boeing in the 1990s. It took its first flight on June 12, 1994, and roughly two years later, was introduced with United Airliners. With the Boeing 777 now 25 years old, though, its future is unclear considering that airlines have newer and more efficient alternatives from which to choose.
About the Boeing 777
Dubbed the "Triple Seven," the Boeing 777 is a wide-body jet that originated in the 1990s. It was designed to fill the market space between the 767 and 747. Some commercial airlines found that neither the 767 nor the 747 met their needs. Therefore, Boeing sought to develop an alternative wide-body jet with middle-line specifications. In April 1994, Boeing completed the first prototype of the 777. In June 1994, it officially introduced the 777 with United Airlines.
In terms of size, the Boeing 777 is the largest twin-engine wide-body jet on the market. It features a traditional three-class seating layout that's capable of supporting up to 368 passengers. The Boeing 777 also has a maximum range of over 9,700 nautical miles.
The Rise of the Boeing 777
Throughout its history, the Boeing 777 has been recognized as one of the most popular jets on the market. It has attracted more orders from commercial airlines, in fact, than any other wide-body jet. Reports show that Boeing has built over 1,600 units of the Boeing 777, which it sells to commercial airlines throughout the world.
From United Airlines to Americal Airlines, Delta and many more, the 777 has been a popular and iconic jet. Earlier this year, however, Delta announced plans to retire the 777. There are many other commercial airlines that continue to use the 777 in service, but now it's 25 years old, Boeing may be looking to move on from the 777.
What's Next for the Boeing 777
With the Boeing 777 now 25 years old, it's time could be coming to an end. So, where is Boeing headed from here? Not surprisingly, the U.S. aerospace manufacturing company is working on a successor with which to replace the 777. The "Yellowstone project" is a plan by Boeing to develop several new jets. Boeing is developing the Y1 jet to replace the 737, 357 and 767-200 jets. It's also developing the Y2 to replace the 767-300 and 767-400 jets. And it's developing the Y3 to replace the 777-300 and 747 jets.