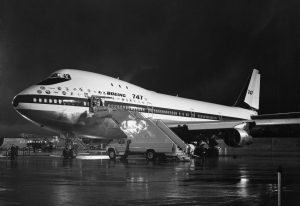 The world-renown Boeing 747 is expected to make its final flight on a trip from Seoul, South Korea to Detroit, Michigan on December 19.
Delta had initially planned to fly its remaining 747 jets on Sunday. However, the company decided to bring them back for operational purposes, with its final flight scheduled for December 19.
Technically, the trip from Seoul to Detroit isn't the 747's final flight. After this nearly 14-hour trip, Delta's remaining 747s will perform a farewell flight over Everett, Washington, and Los Angeles, California. Everett is home of Boeing's production facility where it builds the 747s.
"A nostalgic trip for an iconic airplane: we'll be live around 9 AM Pacific Time to capture the landing of one of @Delta's last 747-400s as it stops by @FutureOfFlight," tweeted Boeing.
As you may already know, the 747 is a wide-body commercial airliner that was put into service back in the late 1960s to early 70s. According to Air & Space Magazine, it's the world's most recognizable aircraft, presumably because of its characteristic hump on the upper deck. The 747 is — or was — manufactured by Boeing's Commercial Airplane unit, which operates in the United States. The 747 is the successor to the Boeing 707. The 747 has a 150% greater passenger capacity than the 707.
The 747 proved instrumental in its ability to transport a large number of passengers across great distances. In an interview with the Associated Free Press, Boeing historian and aviation expert Michael Lombardi said it "made flying available for everyone." Long, multi-day flights were no longer an issue once the 747 made its way into service. Passengers could travel from Singapore to London in less than 24 hours thanks to the 747, explained Lombardi.
Aviation analysts didn't expect the 747 to gain such a high level of popularity. Initially, it was believed that Boeing would produce just 400 units, after which the 747 would become obsolete. History had different plans for the 747, though. In 1993, more than 1,000 747s had been produced, greatly surpassing previous estimates for the jumbo jet. And as of September 30, 2017, an estimated 1,536 units had been built.
Of course, some airlines have already retired the 747. United Airlines, for instance, has removed the 747 from its fleet of commercial airliners. Nonetheless, it appears that Delta is making the preparations for the final flight of its 747. December 19 marks the last time a Delta 747 will carry passengers over the skies.
With the 747 seeing its final flight, the Airbus A380 is expected to take its place.