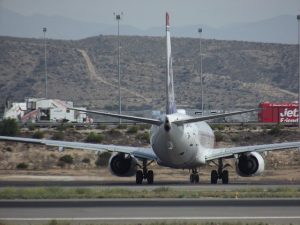 It's been a long time in the making, but the Boeing 737 MAX has been cleared for takeoff. The U.S. Federal Aviation Administration officially approved the return of the narrow-body jet in November 2020, marking the end to its turbulent past. With the FAA's approval, commercial airlines can now operate the 737 MAX in their respective fleet, which should result in a flood of new orders for Boeing.
The 737 MAX, of course, has been grounded for the past 20 months. It performed its first flight on Jan. 29, 2016, and less than a year later, the 737 MAX received certification from the FAA. Unfortunately, 737 MAX experiences a series of incidents in 2019 that prompted the FAA to ground it. Since then, commercial airlines have been forced to keep the jets on the tarmac.
Boeing didn't give up on the 737 MAX, however. Since its grounding nearly two years ago, Boeing has worked closely with the FAA to get the 737 MAX recertified.  It appears that the FAA has finally approved the 737 MAX to return to service. In November 2020, the FAA published a directive that would allow the grounded jet to take to the skies once again.
Consisting of over 100 pages, the directive contains a list of changes that Boeing must make to the 737 MAX. Among these changes is a new anti-stall system. Regulators believe that the 737 MAX's previous anti-stall system contributed to at least one of the jet's crashes. The software used in the system reportedly titled the jet's nose up during flight, making it difficult for pilots to control it. The directive requires a new anti-stall system that runs different software.
The FAA explained that it thoroughly evaluated the 737 MAX before giving it the green light to return to service. "This airplane has undergone an unprecedented level of scrutiny by the FAA. We have not left anything to chance here," said FAA Administrator Steve Dickson when announcing the 737 MAX's return to service.
The grounding of the 737 MAX has left Boeing with stagnant sales. With the 737 MAX grounded, few commercial airlines have expressed interest in purchasing the jet, and even fewer airlines have placed orders for it. The FAA, however, has now approved the 737 MAX's return to service. All Boeing has to do is follow the requirements listed in the FAA's directive. Commercial airlines will then be able to use the jet in their fleets.