---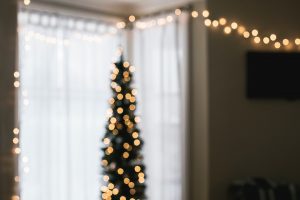 The U.S. Federal Aviation Administration (FAA) is sounding the alarm over a popular holiday tradition: Christmas lights. While traditional string lights generally pose little-to-no risk for pilots, the new laser-style lights are reportedly blinding some pilots.
Rather than hanging string lights across their homes, many homeowners are opting for the easier and more convenient laser lights. Basically, this involves the use of a special projection device that displays lasers — either stationary or moving — across the front of a home. It takes just minutes to install a laser light device, whereas hanging string lights can take hours or even days. As a result, it's become a popular alternative to traditional string lights.
But the FAA says that laser-style lights pose a serious risk to pilots. This, of course, is why it's illegal to point any laser at a pilot or aircraft in flight.
Normally, laser light decorations come with instructions warning consumers not to point them up at the skies. However, some consumers don't heed this warning, directing their lasers at a higher than recommend angle. When this occurs, the laser may blind pilots flying overhead, creating a serious risk for the pilot, passengers and even civilians on the ground.
The problem with lasers is that they are virtually invisible until the pilot sees it. So, even if a laser is projected into an aircraft's path, the pilot may not see it until it's too late.
"Aiming a laser at an aircraft is a serious safety risk and violates federal law. Many high-powered lasers can completely incapacitate pilots who are trying to fly safely to their destinations and may be carrying hundreds of passengers," wrote the FAA on its website. "The FAA is working with federal, state, and local law enforcement agencies to pursue civil and criminal penalties against individuals who purposely aim a laser at an aircraft."
Laser incidents are becoming an all-too-common occurrence in the sky. And with the holiday season upon us, it's about to get even worse. Hopefully, though, this latest warning by the FAA will educate consumers about the dangers of projecting holiday laser lights into the skies. By taking a more conscious approach to holiday decorations, it could prevent major disasters.
So, what's the penalty for shining a laser at an aircraft? The FAA explains that a conviction with malicious intent carries a sentence of up to five years in prison and/or a $250,00 fine.