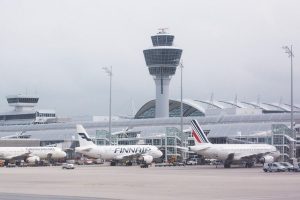 As the world's largest aerospace manufacturing company, Airbus produces and sells a lot of commercial jets. Airbus, in fact, claims that its jets have performed more than 110 million flights collectively. But some of the company's jets have been more popular than others. Among Airbus's most popular jets include the A321 family. Dozens of commercial airlines throughout the world currently use Airbus's A321 jets in their respective fleets.
History of the Airbus A321
The A321 is a family of narrow-body, twin-engine commercial jets developed by Airbus. It has origins dating back to the late 1980s. Prior to its inception, Airbus began to explore design concepts for a successor to its A320. Engineers eventually came up with the design for A321. On March 11, 1993, the A321 performed its maiden flight, and shortly thereafter, the commercial airlines Lufthansa and Alitalia ordered Airbus's new jet.
The Design
The A321 consists of a narrow-body design with a single aisle. As a result, it's smaller than many other commercial jets, specifically those that have a wide-body design. The A321's small design, however, makes it more fuel efficient than many other commercial jets. Airbus even designed a variant for the A321 family (see below) with an emphasis on fuel efficiency.
In terms of landing gear, the A321 features a set of three wheels. The tricycle-style landing gear is retractable. As the A321 lifts off from the runway, pilots can retract the landing gear.
A321 Variants
Like with other jet families, the A321 is available in several different variants. There's the A321-100, the A321-200, the A321neo and the A321LR. The A321-100 was the first variant to enter the A321 family. It has a shorter range than the original A321 jet and a maximum takeoff weight of approximately 183,000 pounds. It's believed that Airbus only produced 90 or so A31-100 jets before canceling the program.
The A321-200 is a larger and heavier variant of the original A321. Released in the mid-1990s, it has a longer range and structural improvement. The A321-200 entered service in 1995, during which it became a popular choice among commercial airlines.
The most fuel efficient variant in the A321 family is the A321neo. According to Airbus, it's 15% more fuel efficient than the original A321. Airbus designed the A321neo with new engine options, including the CFM International LEAP-1A and the Pratt & Whitney PW1000G. Combined with large shanklets, these engines are responsible for its fuel-efficient properties. The A321neo entered service in May 2017.