---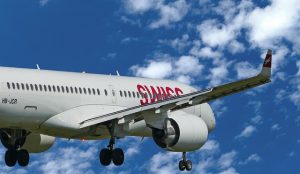 Airbus has made a name for itself in the aerospace manufacturing industry. In 2020, it surpassed Boeing to become the world's largest aerospace manufacturer. Airbus now produces and delivers more airplanes than all other aerospace manufacturers. One of the latest families of airplanes in Airbus's lineup is the A220. To learn more about the A220, keep reading.
What Is the A220?
The A220 is a family of narrow-body airplanes produced by Airbus. It was originally designed by Bombardier Aerospace under the name "Bombadier C Series." In 2018, however, Airbus purchased a majority stake in the program, which allowed Airbus to rebrand it as the "A220."
The A220 is available in several variants. There's a shorter variant known as the A220-100, and there's a longer variant known as the A220-300. Aside from their size, they are pretty much the same. Both variants consist of a narrow-body airplane with roughly the same features; they are just different sizes.
Features of the A220
While it looks like an ordinary narrow-body airplane, the A220 has some unique features that distinguish it from the rest. It's made largely of composite materials, for instance. This is in stark contrast to other narrow-body airplanes that feature an aluminum or steel construction.
The A220 still contains some traditional materials. Reports, though, show that the A220 is comprised of about 46% composite materials. Composite materials, of course, are typically lighter than traditional materials. Therefore, the A220 weighs less than most other narrow-body airplanes.
Another unique feature of the A220 is its engine. For its A220 family, Airbus went with the new Pratt & Whitney PW1000G. According to Airbus, this new engine is about 12% more fuel efficient than previous engines used in its narrow-body airplanes. When combined with its composite construction, the A220 offers a superior level of fuel efficiency.
The Rise of the A220
The A220 has become increasingly popular. Airbus has delivered over 150 A220 airplanes to commercial airlines since its release. In April 2021, the commercial airline Air Manas received one of three A220 airplanes that it purchased from Airbus. In May 2021, Airbus delivered an A220 airplane to the commercial airline Swiss.
While there are other narrow-body airplanes available on the market, the A220 has become a popular choice among commercial airlines. One of the reasons for the A220's popularity is its high level of fuel efficiency. It features an upgraded engine and a composite construction. These features make the A220 more fuel efficient than other narrow-body airplanes.