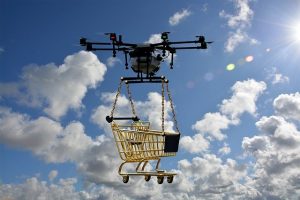 The world's largest online retailer may soon offer drone-based package delivery options for its customers. In August 2020, the U.S. Federal Aviation Administration (FAA) gave Amazon the green light to conduct commercial tests of its delivery drones. Under the FAA's approval, Amazon can deliver packages to its customers using drones.
Overview of Amazon's Drone Delivery Technology
Amazon has been pioneering drone delivery technology for several years. Not long ago, the e-commerce giant relied almost exclusively on the United States Postal Service (USPS) to deliver packages. It has since developed its own courier system in which Amazon employees deliver packages. While drones won't eliminate the need for Amazon's courier system, they'll undoubtedly prove beneficial for other reasons.
Amazon has more than 110 million customers in the United States. Many of its customers are located in densely populated cities and suburban areas that are difficult for drivers to navigate. With drones, Amazon can bypass the otherwise gridlocked roads in these areas to quickly and efficiently deliver packages. Amazon has even said that it's hoping to deliver packages to customers within a 30-minute window, assuming its fleet of drones works as intended.
There are a myriad of cost-savings benefits associated with drone delivery as well. While drones consume electricity, they don't consume fuel. Therefore, Amazon will save money on fuel expenses when using drones to deliver packages. Of course, drones are also cheaper and easier to maintain than traditional vehicles, such as vans.
What's Next for Amazon's Drone Delivery Technology
Now that Amazon has received approval from the FAA, it can begin real-world tests of its drones for package deliveries. The FAA has approved Amazon to begin delivering packages with its drones. There are certain requirements, however, that Amazon must follow. Among others, Amazon must maintain line of sight at all times. In other words, a human operator must be able to see the drone while controlling and guiding it to the customer's address.
David Carbon, vice president of Amazon's Prime Air service, responded to the FAA's decision by saying, "This certification is an important step forward for Prime Air and indicates the FAA's confidence in Amazon's operating and safety procedures for an autonomous drone delivery service that will one day deliver packages to our customers around the world."
The way in which customers receive packages from Amazon is evolving. Amazon will now be able to deliver packages using drones. It's part of a testing program, but Amazon has already been given the green light by the FAA.