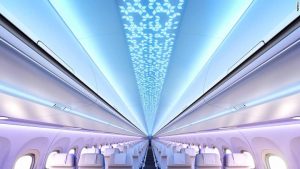 When speaking in front of a crowd at the Pair Air Show, Airbus announced plans to redesign the cabin of its A320 airliners beginning in 2020.
As explained in an article by CNN, the new design "borrows significantly from the A320's twin-aisle siblings, the A330neo and A350 XWB, which are both getting a similar cabin makeover." The A320 is actually a single-aisle airliner, but the new design features design elements from the twin-aisle A330neo and A350 XWB.
Most importantly, however, Airbus says the new design will offer passengers the greatest amount of overhead storage space for the A320's class. The design incorporates oversized storage compartments that are capable of holding up to eight bags. As you may already know, the A320's current overhead storage compartments are only capable of holding five bags. So, this new design would essentially allow for an additional three bags for each overhead storage compartment.
That's not that only change coming to the Airbus A320, however. The new cabin — not surprisingly — will be wider than the existing A320's cabin. With its new sidewall panels, the design should offer passengers about one extra inch of space. That's not a substantial amount, but any added space is a welcomed feature that passengers are sure to appreciate. Furthermore, the design incorporates new window shades that offer a better view for passengers. If you're the type of passenger who enjoys starring into the skyline in mid-flight, you'll appreciate the new window shades, as they enhance the already mesmerizing view when flying.
The new A320 design features a newly remade lavatory with mood lighting, aroma dispensers and anti-bacterial coatings. Finally, Airbus says it will allow airlines to customize their own A320 cabins by offering more than 16.4 million color light-emitting diode (LED) options. This is expected to provide a deeper level of customization and brand recognition for airline companies.
Originally founded December 1970, Airbus has quickly grown to become one of the world's leading aerospace manufacturers. The European-based company has more than a dozen key cites in France, Germany, Spain and the United Kingdom. Airbus is most known for producing the world's largest passenger airliner, the A380. This massive double-deck, four-engine jet features a 550-square-meter cabin (usable space). To put that number into perspective, the second-largest commercial passenger airliner, the Boeing 747-8, has 40% less usable space in its cabin.
The new Airbus A320 cabin design is expected to go live in 2020.