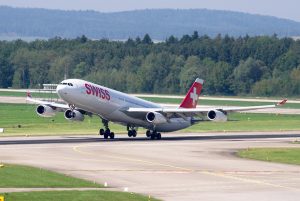 With sales for the A350 on the rise, Airbus is preparing to retire its A340. Lufthansa, for example, is currently in the process of replacing its A340 jets with the newer and more efficient A350 jets. Reports show that the German-based airline has already received 15 A350 jets — and Lufthansa has an additional 30 on the way. While Lufthansa won't receive all 45 A350 jets until 2027, it's working to phase out the older A340 jets in favor of the newer and more efficient jets.
Lufthansa isn't the only airline that's in the process of replacing its A340 jets with A350 jets. According to ThePointsGuy, Virgin Atlantic will remove its A340 jets from service by the end of the year. Virgin Atlantic has even set a date for the final flight of its A340s: Oct. 26, 2019. On this date, the airline's A340 will perform its final flight, transporting passengers from the John F. Kennedy International Airport to Heathrow Airport.
As with Lufthansa, Virgin Atlantic wants to replace the A340 jets in its fleet with the Airbus's newer and more efficient A350 jets. Virgin Atlantic currently has five operational A340 jets in its fleet, which it uses for domestic flights. By the end of the year, however, the airline will stop using these jets, assuming everything goes as planned. Virgin Atlantic said the only exception to the A340's retirement date is if the A350 experiences maintenance or other issues, in which case it may continue using the A340 a little longer.
Of course, these are a few airlines that are working to replace their A340 jets with A350 jets. The A340 has had a good run. Airbus originally introduced the A340 with Lufthansa and Air France in 1993. Since then, it's become one of the world's most popular long-range, wide-body jets. Airbus produced the A340 in several variants. The standard variants include the A340-200 and A340-300, which are capable of seating 375 passengers. The biggest variant, the A340-600, is capable of seating 440 passengers.
Since releasing the A350 in 2015 with Qatar Airways, the A340 has become less popular among airlines. So, why do airlines prefer the new A350 over the A340? Aside from featuring a longer body, the A350 is more fuel efficient than its A340 counterpart. It's powered by GE engines that consume less fuel than the engines used in the A340. And with Airbus shifting its manufacturing processes to the A350, it's only a matter of time until all airlines phase out the A340.