---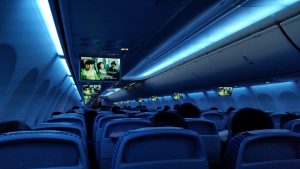 Several major aerospace manufacturing companies already include beds in their planes. However, Airbus is planning to add them to lower levels, presumably going as deep as the cargo hold.
According to a press release issued by the company, Airbus plans to add these lower-level bunk beds to its wide-body A330 jets as well as its A350 jets beginning in 2020. This project is a collaboration between Airbus and the French aviation equipment vendor Zodiac Aerospace. The two companies say the new bunk beds will allow passengers to sleep and rest on long flights.
While neither Airbus nor Zodiac Aerospace have announced the exact specifications for the new lower-level bunk beds, the companies say the beds will feature a modular design. This meas airlines can easily change and modify the bunk beds by swapping them out with interchangeable units. A modular design would certainly be a welcome feature, as it provides airlines with greater control over the configuration and usage of these bunk beds.
Some reports suggest that Airbus may include the bunk beds in the cargo area of its jets. Assuming it maintains a modular design, airlines could fill voided space in the cargo hold with beds. And with an airline is carrying maximum cargo, it can remove the bunk beds.
"Airbus and Zodiac Aerospace have partnered to develop and market lower-deck modules with passenger sleeping berths. The modules, which would fit inside the aircraft's cargo compartments, offer new opportunities for additional services to passengers, improving their experience while enabling airlines to differentiate and add value for their commercial operations," wrote Airbus when announcing the new on-board sleeping quarters.
Many passengers enjoy resting on long flights. It allows them to catch up lost sleep while minimizing the risk and severity of jet lag. The problem, however, is that sleeping space is currently limited on most jets. With Airbus' new
Of course, airlines must weigh the advantages of cargo bunk beds with the disadvantages. Statistics show that cargo transport accounts for 9% of annual revenue for passenger-cargo flights. If an airline fills the cargo hold if its jets with bunk beds, it won't be able to transport cargo (or not as much, at least). On the other hand, installing bunk beds in the cargo hold will allow airlines to charge passengers for these upgrades. Whether or not it's a smart investment, though, remains to be seen. Airbus is expected to roll out the new lower-level bunk beds in 2020.