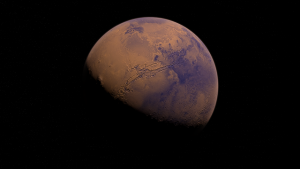 While most known for building commercial jets — including the world's largest passenger airliner, the A380, — Airbus has its eyes set on space. In July, Airbus revealed that it had partnered with the European Space Agency (ESA) to build a rock-transporting spaceship. Known as the Earth Return Orbiter (ERO), it will travel to Mars where it will collect samples of the Red Planet's surface.
The ERO will work in conjunction with the Perserverance Mars rover. As you may know, the National Aeronaitcs and Space Administration (NASA) launched the Perserverance rover on July 30, 2020. After making its 59 million-mile journey, it will touch down on Feb. 18, 2021, assuming all goes as planned. The Perserverance rover is designed specifically to collect samples of the Red Planet's surface, which it will load onto Airbus's ERO. The ERO will then transport the samples back to Earth where they can be further analyzed and evaluated by experts.
While still in the early stages of development, the ERO is expected to weigh over 13,000 pounds. Reports indicate that it will use an ion-based propulsion system consisting of both chemicals and electricity. The ion propulsion system will move the ERO to Mars where it will orbit the Red Planet. With an ion propulsion system, however, the ERO will require a substantial amount of electricity. As a result, Airbus is designing the ERO wwith a massive array of high-powered solar panels. Spanning over 120 feet, the solar panels will generate electricity from the sun's solar rays, which will then be used to power the ERO's ion propulsion system.
Building a spaceship that's capable of not only reaching Mars but also receiving samples and sending them back Earth is no easy feat. "This is not just twice as difficult as any typical Mars mission; it's twice squared – when you think about the complexity involved," said the European Space Agency's Dr David Parker in an interview with BBC News.
Why is Airbus building the ERO exactly? Ultimately, it wants to assist the ESA, as well as NASA, in their joint efforts to search for signs of past life on Mars. The two space agencies believe that if life ever existed on the Red Planet, it would have formed along the Jezero Crater. Therefore, the Perserverence rover will collect surface samples from this dried-up lakebed, which it will load onto the ERO. The ERO will then transport the samples back to Earth for further analysis.