---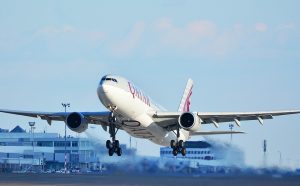 Ever wonder how exactly Airbus builds the massively sized A330neo airliner? Originally introduced January 1994 with Air Inter, the A330neo has become one of the most recognizable jets in the world. Available in several variants — including the 300, 300HGW, Regional and 200 — it offers an efficient design with a large passenger and cargo capacity.
While Airbus has given tours of its A330neo manufacturing facilities in the past, the aerospace manufacturing company recently shared a video showing the A330neo being manufactured from the ground up. So if you're curious about Airbus's A330neo and want to see how it's manufactured, you should check out the following video presented below. Also available on YouTube, the video features time-lapsed footage of the aerospace manufacturing company's A330neo during production. It's an intriguing and memorizing video that shows just how efficiently Airbus is able to build one of the world's largest commercial airliners.
At two minutes and 17 seconds, the video isn't very long. Nonetheless, it shows each step of the A330neo's production. During the opening scene of the video, an Airbus Beluga is shown uploading parts on the runway. Next, Airbus workers begin assembly of the airframe in a large warehouse. The A330neo is then meticulously painted to achieve a colorful and custom design. The video closes with a scene depicting the A330neo flying in the skies captioned with Airbus's name and logo.
It's important to note that the video shown below specifically focuses on the production of the A330-900, which of course is the larger, longer-range variant of the A330neo family, And with its larger size, production of the A330-900 is more complex than that of smaller variants.
Video: In the Making: First A330neo to Mauritius
"Air Mauritius has taken delivery of its first A330-900, on lease from ALC during a ceremony held in Toulouse. The national carrier of the Republic of Mauritius is the first A330neo operator based in the southern hemisphere, and the first airline in the world to operate a combination of both the A330neo and A350 XWB," wrote Airbus in the video's description.
Since launching the A330 over two decades ago, Airbus has sold more than 1,700 units to over 100 customers throughout the world. According to Wikipedia, Airbus has spent approximately $3.5 billion on the A330 project. Given its unparalleled success, however, most aviation experts will agree that it was money well spent for Airbus. The A330 has been one of the company's top-selling airliners — and it's still selling more units with each passing year.