---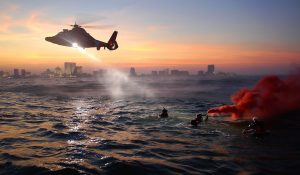 Aerospace manufacturer Airbus has received a $273 million order to build 35 UH-72A helicopters for the U.S. Army. The Department of Defense (DOD) recently announced this news, saying the helicopters will provide vital support for U.S. military operations, including border control, medical evacuation, transportation of troops and more.
Of course, Airbus has been manufacturing the the Lakota helicopter for more than a decade. Since the company launched the Lakota project back in 2005, it's produced more than 400 units of the light-utility, twin-engine helicopter.  Nearly all of the 400 units purchased by the U.S. military were disrupted to the Army. However, reports show that Airbus sold a few of the UH-72A Lakota helicopters to the Navy as well.
The UH-72A is actually the military's version of the EC145, which is a civilian helicopter with similar specifications. The U.S. Army acquired the UH-72A Lakota in 2007 to replace its existing Bell UH-1 Iroquois helicopter. In 2014, the U.S. military purchased 155 units, attesting to its popularity and performance.
"We are proud that the U.S. Army has continued to rely on us to provide this versatile capability for its aviation fleet," said Chris Emerson of Airbus in a prepared statement. "We have an unbroken record of on-cost and high-quality program excellence and support for this aircraft."
The UH-72A Lakota program has origins dating back to the 1980s. However, it wasn't officially started until many years later in 2004, during which the DOD terminated its RAH-66 project. This prompted the U.S. military to seek a replacement for its RAH-66 helicopter, with the UH-72A Lakota being the most probable choice.  The first UH-72A Lakota helicopter was delivered to the U.S. Army on December 11, 2006. Following its arrival, other units were distributed to the Army and Navy at various military centers in the United States and abroad. According to Wikipedia, each UH-72A Lakota helicopter costs roughly $5.8 million. While not cheap, it's become a key asset of the U.S. military.
So, who's paying for the new UH-72A Lakota helicopters? When speaking about the new deal, senators Roger Wicker and Thad Cochran explained that Congress is currently negotiating funding for the 35 new helicopters. According to the senators, the House of Representatives has already approved $167 million for the order. The Senate, however, is asking for $196. The senators say that negotiations should wrap up in the following weeks.
Market analysts say the U.S. military's recent purchase of 35 UH-72A Lakota helicopters will help strengthen Airbus' presence in Columbus, where it currently manufactures the aircraft.