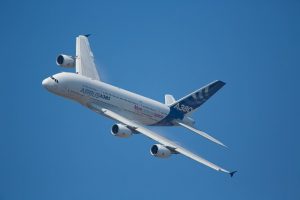 To say Airbus had a strong year in 2019 would be an understatement. With 863 deliveries, the European aerospace manufacturing company sold more airplanes than other company in the world. Whether or not this trend continues remains to be seen, but Airbus is currently dominating the aerospace market, thanks in part to its A320 family.
For years, Boeing has held the title of being the top seller of airplanes. Boeing manufactures and sells a variety of jets, some of which include the 737, 747, 767, 777 and 787. If you keep up with aerospace industry news, however, you're probably well aware of the company's recent issues with its 737 MAX jet.
The successor to the 737 Next Generation (NG), the 737 MAX is a series of narrow-body jets manufactured by Boeing. It's the fourth generation of jets in Boeing's long-running 737 family. As a result, it's based on the designs of earlier jets in the 737 family. Boeing first announced the 737 MAX back in August 2011, with the energy-efficient jet taking its first flight about five years thereafter. Following two crashes, though, the U.S. Federal Aviation Administration (FAA) — along with other aviation authorities throughout the world –grounded the Boeing's 737 MAX. In December 2019, Boeing said it was suspending production until further notice.
With the 737 MAX grounded, Airbus has used this opportunity to expand its presence in the commercial aerospace market. Airbus hasn't had a perfect year. On the contrary, it was forced to reduce its sales goal by 3% in the fourth quarter of 2019. Nonetheless, it still delivered nearly 8% more airplanes in 2019 than it did 2018, while knocking out Boeing to become the top seller for that year.
Airbus's A320 has become particularly popular among commercial airlines. According to various reports, Airbus has delivered over 9,100 A320 jets, roughly 8,700 of which are still being used by commercial airlines. The A320, of course, is a family twin-engine jets manufactured and sold by Airbus. It includes the A318, A319, A320 and A321. The A320 is also known as the "current engine option," whereas the A320neo refers to the "new engine option."
1