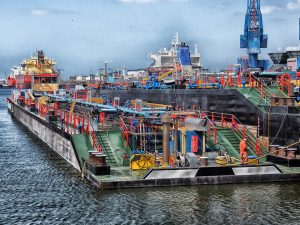 While most known for its jets, some of which include the A220, A300, A310, A318, A319 and A350, Airbus produces a variety of aerospace products, including drones. The Netherlands-based company has been investing heavily in drone technology in recent years. One of Airbus's latest drone projects involves transporting packages from shipping containers on land to ships offshore.
Known as the the Skyways project, Airbus began exploring the idea of using drones to deliver packages to ships offshore in 2015. Just two years later, Airbus was granted approval for the project by the Civil Aviation Authority of Singapore. While this authority was simply designed for "experimentation," it gave Airbus the official green light it needed to proceed with Skyways.
It appears that Airbus is one step closer to making Skyways a reality, as the company recently announced the first successful test run of Skyways drones. Last week, Airbus said it performed the first test flight of a Skyways drone at Singapore's Marine South Pier. According to news reports, the Skyways drone picked up a 3.3-pound load — consisting of 3D-printed components — from the aforementioned pier and transported them to a ship located nearly a mile offshore.
It's safe to say that Airbus's first Skyways test run was a success. The company's drone picked up the load, flew it to the offshore ship where it was dropped off, and flew back to shore without incident. Airbus says the Skyways drone performed this pickup and drop-off in just 10 minutes.
"We are thrilled to launch the first trial of its kind in the maritime world," said Leo Jeoh, who is currently leading Airbus's new Skyways project. "Today's accomplishment is a culmination of months of intense preparation by our dedicated team, and the strong collaboration with our partner, as we pursue a new terrain in the maritime industry."
Although Airbus's first Skyways test run consisted of just a 3.3-pound package, the company says its new drone is capable of carrying up to 8.8 pounds. Additionally, Airbus says the drone can reach ships located as far as 1.86 miles offshore.
So, what's next for Airbus's Skyways project? Airbus will continue to conduct test runs with the drone, ensuring that it's capable of safely picking up packages from land and delivering them to the appropriate ships offshore. Assuming the project is successful, it could usher in a new era for the aerospace company, allowing it to streamline the delivery of packages to ships.