---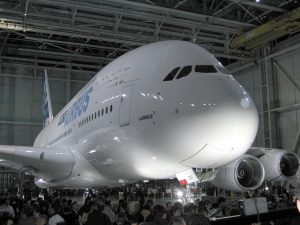 Airbus has somehow managed to squeeze 80 additional seats into its massive A380 jet. This places the double-decker's new passenger capacity to an impressive 575 in a traditional three-class setup. When accounting for all economy class, however, the A380 can hold up to 853 passengers.
As you may already know, the A380 is the world's largest passenger airliner. Manufactured by European aerospace manufacturer Airbus, it features two decks with a cabin of 550 square metres. To put that number into perspective, the A380's cabin is roughly 40% larger than the next biggest airliner, the Boeing 747-8. The Airbus A380 made its first flight back in 2005.
Because of its massive size, airports throughout the world have been upgraded — or are being upgrade — to accommodate the Airbus A380.
So, why did Airbus decide to upgrade the passenger capacity of its A380? Some people assume the company's decision to increase its passenger capacity is a strategic move to make the A380 more appealing to passengers. However, Airbus only sells its planes to airlines, not to passengers, so this really doesn't make sense. A more plausible reason is that Airbus wants to help airlines generate more revenue. By packing more passengers onto its A380, airlines can sell more tickets and make more money, which should in turn help Airbus sell its A380.
This also begs the question: how did Airbus manage to squeeze in 80 additional seats in its A380? Reports indicate that Airbus made several changes to the jet's existing design to create the additional seating space. For starters, Airbus placed the front stairs down the fuselage, while also combining the passenger and crew entrances into a single entrance. The company says this move alone freed up 34 business, premium and economy seats, as well as additional space for food trolleys.
Airbus also expanded the number of seats in its economy row from 10 to 11, creating an additional 34 seats in total. Now, passengers who fly premium have more leg and arm space, as there's only 8 to 9 seats per row in this class.
When speaking about the new passenger capacity increase, Airbus' Kiran Rao explained that it's a new way for the company to meet the growing needs of airlines.
"This new package for our A380 customers is a smart way to meet airline needs while improving the A380 economics with additional revenues and innovating in passenger comfort," said Kiran Rao, Airbus' head of strategy and marketing.