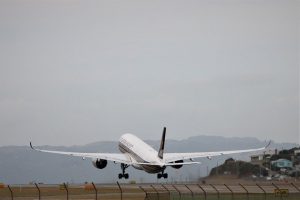 Airline pilots enjoy drinking coffee, as well as other beverages, just as much as passengers. When controlling an airplane, though, an otherwise small spill could cause big trouble. If a pilot spills his or her beverage, it could damage some of the airplane's control systems. That's why Airbus has just revealed a new spill-proof console for its A350 jet.
Why Airbus Designed a New Spill-Proof Console
The European aerospace manufacturing company designed a new spill-proof console for its A350 jet following a couple of incidents involving spilled beverages in the cockpit. On Nov. 9, 2019, an A350 flying from South Korea to Singapore was forced to make a deter following a spilled beverage in the cockpit. On Jan. 12, 2020, a similar incident occurred with an A350 traveling from Detroit to South Korea. It's believed that a spilled beverage caused both of these jets to change course for an alternative landing.
Following these two incidents, the European Union Aviation Safety Agency (EASA) released specifications for a liquid-free area in the cockpit. The purpose of this was to minimize the risk of spills that could otherwise divert commercial airplanes from their intended destination. Airbus, however, has engineered its own solution: a spill-proof console.
About the New Spill-Proof Console
Airbus's new spill-proof console will prevent spilled coffee, beverages and other liquids from damaging the control systems of its A350 jet. The new spill-proof console is essentially a cover that pilots can remove. When installed, it offers protection for the A350's maser control systems, rotary controls and wheels. Pilots can remove the cover, however, during takeoffs, landings and other instances when they need to access the aforementioned controls.
In addition to its new spill-proof console, Airbus is taking other measures to protect against spilled beverages. Airbus has specified a liquid-free zone in the manual for its A350. Pilots are prohibited from drinking beverages or carrying liquids in this zone. Additionally, Airbus has included new procedures that pilots must follow in the event of a spilled beverage or liquid. Combined with the new spill-proof console, Airbus has created a safer environment for pilots and passengers of its A350 jet.
In Conclusion
Spilled beverages are bound to happen. When they occur at the kitchen table or elsewhere on the ground, they usually don't pose a problem — other than cleanup. When a spilled beverage occurs in an airplane at 35,000 feet, on the other hand, they can pose a serious safety hazard to everyone on board. That's why Airbus has developed a new spill-proof console for its A350 jet.