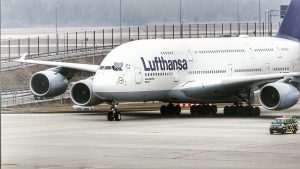 Aerospace manufacturing company Airbus is considering building a new cargo-hauling version of its existing A330neo jet. Reports show that inquires from parcel services companies like Amazon and the United Parcel Service (UPS) have prompted Airbus to consider the new jet.
Boeing is currently the leading manufacturer of cargo-hauling jets. In recent years, however, the company's 767 freighter has experienced slow sales, forcing Boeing to shift their focus to military-grade cargo-hauling jets. Boeing's military freighter is still in production, though, and it may be several years before it's ready to sell.
Originally produced 2015 with the first flight taking off in October 2017, the A330neo is a wide-body jet developed by Airbus. It's called the "neo" because it has a "New Engine Option." It uses the Rolls-Royce Trent 7000 engine, which is an upgraded version of the Trent 1000 engine found on the Boeing 787-10.  Not only is the Trent 7000 more powerful, but it's also more fuel efficient. Reports show, for instance, that the Trent 7000 is about 11% more efficient than its predecessor. Granted, the increased weight of the Trent 7000 results in a 2% loss of fuel efficiency, and the engine's larger size results in a 1% loss of fuel efficiency due to drag. Nonetheless, it's still about 11% more efficient than the Trent 1000.
Currently, Airbus doesn't produce or otherwise offer a cargo-hauling freighter version of the A330neo, but that could soon change. Aviation experts say that a new cargo-hauling version of Airbus' A330neo could boost the company's sales. Since it was launched, Airbus has sold 214 A330neos for a per-unit cost of roughly $259 million. With interest expressed by Amazon and UPS, a freighter version would likely attract strong sales for Airbus.
When speaking about the possibility of a new cargo-hauling version of the A330neo, UPS said that it's always looking to acquire new aircraft that it can use in its operations. At the time, however, it hasn't made any official decision regarding the purchase of a new jet. "UPS studies possibilities for acquiring new and used aircraft as a matter of routine business. However, anything you may be hearing is speculation,'' said Glenn Zaccara of UPS.
Amazon, the world's largest online retailer, says it's planning a fleet of 40 Boeing 767 cargo-hauling freighters for use in its Prime Air fleet. With Airbus considering building its own freighter from the A330neo, this could very well spark a new battle between two of the world's biggest aerospace manufacturing companies.