---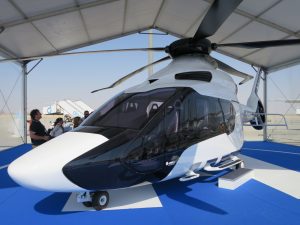 Airbus is most known for its commercial jets, including the A320, but the aerospace manufacturing giant has its eyes set on a new aircraft: helicopters. Reports show that Airbus has begun development on its H160 helicopters at a factory in Marignane, France, with plans to sell them in 2019.
Although the H160 is still in the early stages of development, Airbus says that it has three prototypes in its fleet, one of which completed a successful test flight during a demonstration earlier this year.
The H160 helicopter is actually a collaboration project between Pegasus Design and Airbus Helicopters. It's a high-end, medium-range helicopter that features leather interior, veneers, connectivity and other premium upgrades. But the real beauty of the H160 lies in its performance. Among other things, it features Blue Edge tracking for the rotors — in a five-blade rotor system — that minimizes noise and reduces turbulence. This is important because noise is common complaint among helicopter pilots and passengers. With the H160's new and improved rotor system, however, pilots and passengers alike will experience less noise, allowing for a more enjoyable flight.
As shown in the photo above, the H160 is relatively small, with a weight of just 12,500 pounds. One of the reasons for the helicopter's lightweight design is its composite frame. Unlike other helicopters, Airbus' new helicopter features a frame that's made entirely of composite materials, thereby creating a superior level of strength while minimizing its weight in the process. Depending on the specific configuration, the H160 can seat between four and 10 passengers.
"The entire design was based on one overriding goal: to create added value for customers in terms of performance, economic competitiveness, safety and comfort. Both cleaner and quieter, the H160 takes a step forward in respect for the environment. The H160 entry into service is planned for 2019," wrote Airbus on its official website.
Perhaps the most notable features of the H160 helicopter lies in its safety systems. It features a Helionix avionics system, for instance, that automatically adjusts certain actions to minimize the risk of collision and failure.
Unfortunately, Airbus has yet to announce an official price tag for the H160 helicopter. And while it won't be released until next year, some experts say that it will likely cost around $14 million to $18 million — a hefty price for a helicopter to say the least. Consider its high-tech features, though, it may offer a new stream of revenue for Airbus, a company that's constantly battling against its Boeing counterpart.