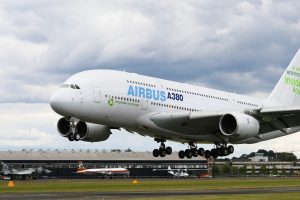 Airbus is expanding its production operations to the East Coast. Earlier this month, the aerospace manufacturing company announced plans to host a groundbreaking ceremony for its new Mobile, AL factory on Jan. 16.
This doesn't necessarily mean that Airbus's new Mobile, AL factory will begin rolling out new jets after Jan. 16. Rather, the closed ceremony simply signals the beginning of the project's official development. Once the factory is complete, it will be used to produce new A220 jets.
So, why did Airbus select Mobile, AL for the location of its new production factory? For starters, Alabama — as well as the East Coast in general — has a bustling aerospace infrastructure, meaning there are plenty of potential customers to whom Airbus can sell its newly produced jets. The city is also believed to have offered Airbus some financial incentives. According to one report, both the Mobile City and Mobile County have pledged to compensate Airbus up to $5 million each for the construction of the new factory, with a maximum reimbursement rate of $400,000 over the course of 10 years.
Airbus is working closely with HPM to build the new production factory. "Our continued commitment to Airbus and Mobile has expanded significantly in the last decade, and we look forward to again representing our client in Alabama's growing aerospace sector," said Mike Lanier, president of HPM, the project management organization hired by Airbus for the completion of its new Mobile, AL factory.
The new Mobile, AL factory will be exclusively to produce A220 jets. The A220, also known as a Bombardier C Series, is a family of twin-engine, medium-range jets. There are currently two main variants in the A220 family: the A220-100 and the A220-300, the former of which is larger than the latter. In 2016, the Federal Aviation Administration (FAA) and the European Aviation Safety Agency (EVSA) certified the A220, giving Airbus the green light to proceed with production. According to Airbus's website, A220 jets are designed in 100- to 150-seat configurations. This relatively compact design, combined with Airbus's innovative technology, allows for a superior level of fuel efficiency.
Airbus says that its new Mobile, AL will be ready next year. During its early days of operation, Airbus will be use parts from other facilities to streamline production at its new Mobile, AL factory. Eventually, though, Airbus's new factory will feature a permanent production line for its A220 jets. And considering that Airbus already has orders for more than 500 A220 units, the new factory couldn't come at a better time.