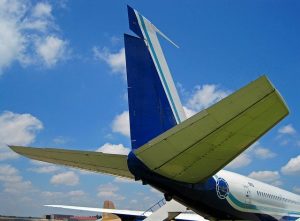 Originally introduced in 1958 with Pan American World Airways, the Boeing 707 is one of the world's most iconic airplanes. The narrow-body airplane has made its way across the world while reaching countless commercial airlines in the process. While you've probably seen the Boeing 707 before, though, there are probably some things you don't know about it. Below are five fun facts about the Boeing 707.
#1) Started the Jet Age
The Boeing 707 is largely credited with sparking the Jet Age. There were other jet-engine airplanes that appeared before it, but the Boeing 707 was undoubtedly the most popular. It ushered in a new era of jet-powered airplanes, which commercial airlines were eager to purchase and use. This era has become colloquially known as the Jet Age.
#2) Over a Half-Century of Service
To say the Boeing 707 was in service for a long time would be an understatement. After being launched with Pan American World Airways in the late 1950s, it remained in service for over a half-century. By 2013, most commercial airlines had retired the Boeing 707. Nonetheless, its half-century of service makes the Boeing 707 one of the longest-running airplanes in history.
#3) Only a Single Competitor
At the time of its inception, the Boeing 707 only had a single competitor: the British de Havilland Comet. With that said, the Comet had a turbulent history with a record of crashes and accidents. In comparison, the Boeing 707 was regarded as one of the safest and most efficient commercial airplanes of its time. This led most airlines to choose it over the Comet.
#4) Air Force One
The Boeing 707 was so popular, in fact, that was used as Air Force One. From the early 1960s to the 1990s, the United States Air Force used a VC-137C variant of the 707 as Air Force One. The modified 707 has since been retired, though it remains on display at the National Museum of the United States Air Force outside of Dayton, Ohio.
#5) Lives on in the 737
Although the Boeing 707 has since been retired, many of its components are still used in the Boeing 737. The 737, for example, uses a modified version of the 707's fuselage. It also uses the same nose and cockpit setup as its predecessor.
Throughout its history, Boeing manufactured approximately 865 units of the 737. It was one of the most popular jets of its time, with aviation experts crediting it with the Jet Age. Hopefully, this gives you a better understanding of the Boeing 707 and its rich history.