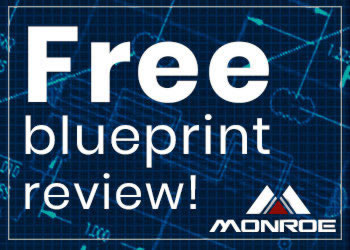 Monroe provides custom manufacturing solutions to clients throughout the world. We can manufacture built-to-order parts, custom products and offer a wide variety of options to solve your problem. We can support high volumes and short-lead times.
Monroe Engineering Products is a full-service manufacturer of fabricated metal assemblies and hardware. We do vendor-managed inventory (vmi) on low-cost hardware items and manage larger fabrication programs from blueprint to delivery.
The Key to our success in manufacturing is the engineering review process. That's where we identify the right process to match the cost / quality equation to your program. The next critical component is a team of captive and contract manufacturing resources. We finance major programs and pay our bills on time. Good vendors want to work for and with Monroe.