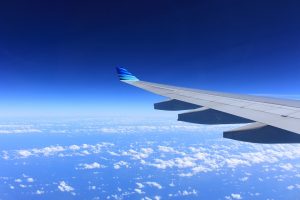 Boeing's highly anticipated 737 MAX 9 jet is just weeks away from its debut.
The MAX 9 is the successor to the 737-900. Among other things, it features a longer fuselage than the MAX 8, which Boeing hopes will increase its range from 3,510 miles to 3,605 miles after 2021. Lion Air was the first customer to order Boeing's new 737 MAX 9, pre-ordering 201 MAX 9s.
Of course, the entire body of the MAX 9 is longer than its predecessors. Reports indicate that it's able to carry 20 more passengers than the first MAX produced by Boeing. Furthermore, Boeing is leveraging the power of new assembly technologies, which include automated robotics systems to drill holes and subsequent screws into the wings and other components of the aircraft.
However, the most notable difference between the MAX 8 and MAX 9 is human factor, according to the company's Keith Lverkuhn.
"I don't think with respect to the design, the supply chain, there's anything like that that gives us pause on what we ought to be doing on the Dash 9," said Keith Leverkuhn, Boeing's vice president and general manager for the 737 MAX program, when speaking to reporters at the company's Renton plant. "But one thing that I would expect is that as we move through the flight tests of the past year, there are internal efficiencies that we should be able to gain," Leverkuhn said. "Can we be sure that we've got the right team in place, with what I call full kits: parts, plans, tools ready to go?"
It's no secret that the 737 is the world's most popular airplane, with Boeing produces roughly two of them per day at its Renton factory alone. But Renton will be the factory of choice for the company's upcoming MAX 9 plane as well. Boeing says it will produce some 52 jets per month in 2018, increasing that number to 57 in 2009 — all while Boeing is transitioning to its new MAX line.
But Boeing is already looking towards future aircraft designs. According to Wikipedia, Boeing is studying the feasibility of a new design that would boast a larger engine, improved wings, and new landing gear
The Boeing 737 MAX 9 is expected to roll out this month, with its first flight happening just a few months later in April. The MAX 10 would seat 12-18 additional passengers for 192-198 in dual class or 262-232 in single class. While there's no timetable announced for the MAX 10, analysts believe it could be finished by 2020.
You can get a sneak peek of Boeing's new 737 MAX 9 by click the play button below.